Boost is an exciting new feature that allows you to take your profile or posts you have created and turn them into ads featured in prominent spots in and around BandLab to help you reach more people.
If you see a profile or a post with the "Boosted" tag, this shows that the profile or post has been boosted.
Boosting your BandLab profile is available only via BandLab Membership, but boosting your posts is available on individual posts.
How do I Boost my profile with BandLab Membership?
With BandLab Membership, your profile will be promoted on autopilot at a discounted daily rate. On average, you will receive between 3.5-7.5k impressions on your profile per month. For best results, ensure your profile is active and you have been posting regularly to encourage more users to follow you.

Increase engagement and impressions on your profile, get yourself heard, and receive insights on your campaign! Look out for many new additional features to come for Boost Members in the coming weeks and months.
What are the options for BandLab Membership?
BandLab Membership is available on a monthly or annual basis. Being an annual member provides you the same number of expected monthly ad impressions at an even more discounted rate.
How do I Boost my posts?
To Boost a post on BandLab, tap the Boost button and follow the instructions to set your campaign budget, length, and checkout. It's as simple as that!
Is Boost available to all users on BandLab?
Boost is currently rolling out worldwide.
How long will my Boost campaign run?
Your Boost campaign will remain active until the number of promised impressions have been delivered. This means your campaign could end as soon as it reaches the number of allotted impressions.
What happens when my post's Boost campaign is over?
When your Boost campaign is no longer active, your post stops boosting, but you'll still be able to view your campaign insights.
How do I cancel my BandLab Membership?
BandLab Membership renews automatically, so if you want to cancel your Boost Membership, you can do so via your account's
Membership Settings
. Please note that canceling a Membership purchased via the App Store or Play Store must be done via the respective stores. If you run into any trouble canceling your BandLab Membership, please write directly to our team via
bnd.la/contact-us
or at
support@bandlab.com
with the subject "Cancel my Boost Membership," and we will be right with you to help you with that process.
How do I monitor my campaign?
Once either BandLab Membership or a post Boost campaign is active, you can click the Boost button in your profile or the specific post to review your campaign insights.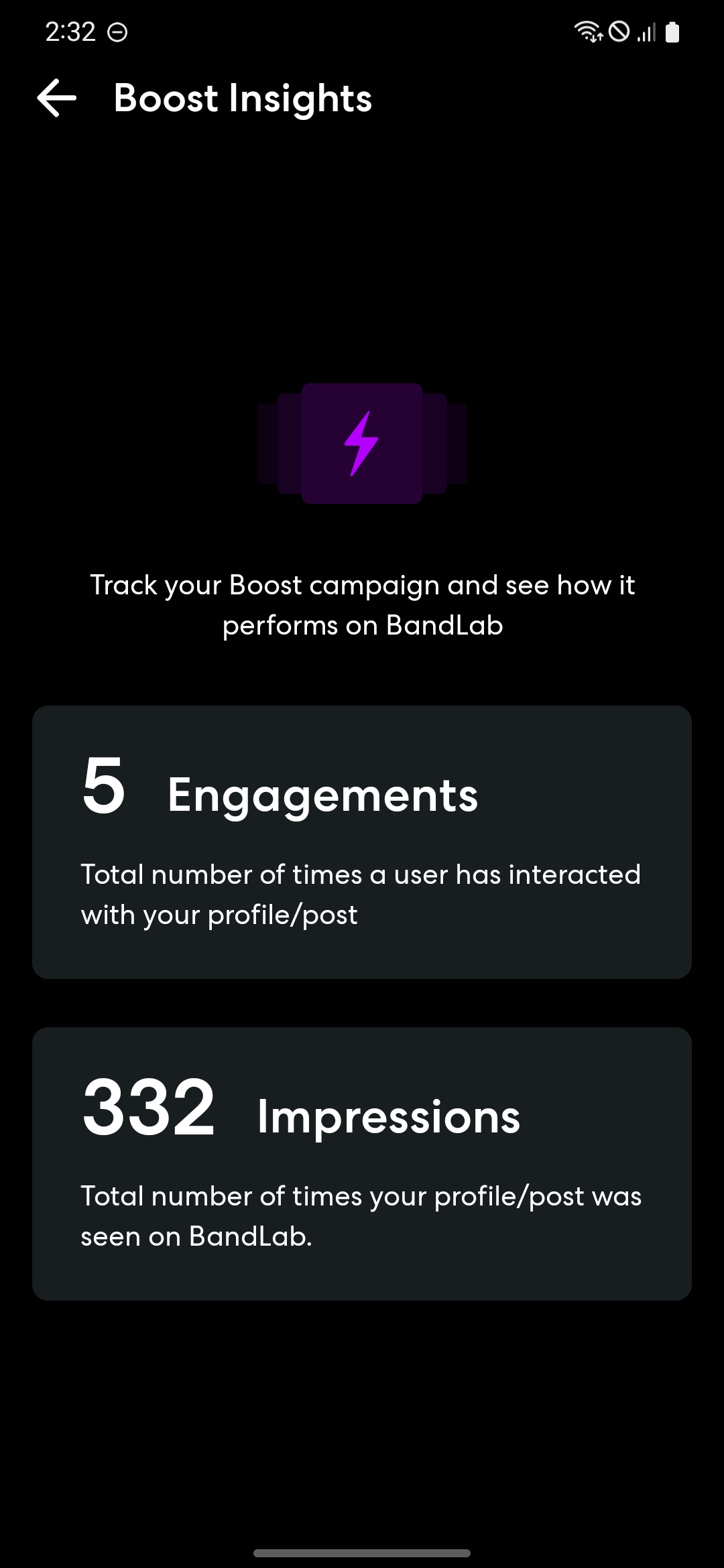 What are impressions and engagements?
Impressions are counted each time your boosted profile or post is seen on BandLab. Engagements, are counted each time someone interacts with your boosted profile or post. Any action that warrants a "click" on your boosted content counts as an engagement.
Do more impressions give me more engagements?
Not necessarily. While more impressions will greatly increase the likelihood of getting more engagements, it does not guarantee it. The quality of your boosted content will still be the main factor in attracting more engagements.
Why are my engagements so low?
Creating good, interesting content is imperative to gain more engagement, whether boosted or not. Boost enables your profile or post to reach a wider audience on BandLab that may not be seen otherwise, but you'll still want to ensure that your profile or post attracts engagement.