You can start making your own songs using the Studio as soon as you sign up!

The Studio is BandLab's online digital audio workstation, where you can create projects as long as 15 minutes, with the ability to layer up to 16 audio and MIDI tracks.

Here are some simple steps to get you started:
To record using BandLab on your computer's browser; log in to your account, or sign up at www.bandlab.com. Once logged in:
Click on at the top-right corner of the page to create a new project
You will be prompted to the New Track screen, where you can choose from these eight options to start with:





Import Audio/MIDI - Import audio or MIDI files from your computer
BandLab Sounds - Browse our Loop Pack library, sorting them by genres and instruments you're interested in

After creating the track, make sure to key in your project's Name, Key, Tempo, Time Signature and adjust the Metronome Settings and the Master Volume if you want to, at the top of the Studio:




Before recording:
i. Click on at the bottom-left corner of the Studio
ii. Select the desired input source
iii. Test the input (You will know everything is set when the volume meter is moving)
Once everything is set, click on Record at the top (shortcut R) to start recording.
Click Record again or hit Spacebar on your keyboard to stop recording
Click on Add Track to add another Voice/Audio track or any other type of track you want
Click on Save or Publish at the top-right corner of the screen to save your project privately or immediately publish your project to your feed!




To record using the BandLab iOS/Android Apps:

Tap on the Create button at the bottom of the screen
You will be prompted with the Create Tab where you can choose what kind of track you want to start with:

Import File - Upload your MP3, M4A or WAV file
Voice/Audio - Record any sound via microphone or a connected audio interface
Sampler - Create your own Sampler Kits by selecting or recording your own sounds
Looper - Make dope beats by using our Looper interface. Layer sounds by adding guitars, FX, bass, and beats that can be downloaded from our Sound Packs library
Virtual Instruments - Access virtual instruments such as drums, piano, synths, strings, and woodwind!
Guitar or Bass - Plug in a guitar to use BandLab as an amp - this will require some sort of portable audio interface




To start recording, choose Voice/Audio and you can record using the built-in mic on your phone
Record something by tapping on Record at the bottom of the screen. This will be your first track
Tap the Close Icon at the top-right corner of the panel to bring you back to the Track View
To add more tracks, tap Add Track beneath the first track
Once you're done, tap and hold the Sync Icon at the top-right corner of the screen to Save your project privately or Publish your project to your feed!
---
Here's a GIF with the exact steps: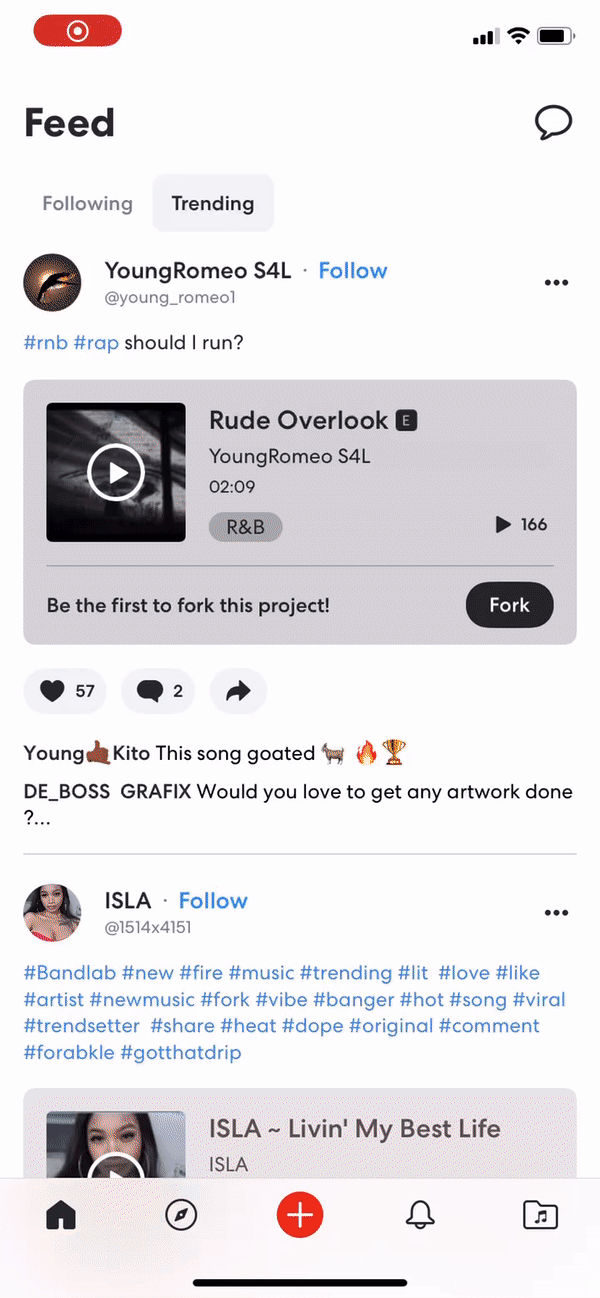 Where can I find more BandLab tutorials?
You can refer to these ones, by our friends Eumonik and Inclusive Music!
Additionally, check out the tutorials in our Blog here.
Last but not least, we've added a Studio tutorial under

Menu Icon > Help > Show Tutorial, which will walk you through each of the Studio elements!