Digital music distribution is the process of making your music available to the public to stream or download on music stores and streaming platforms. With a service like BandLab Distribution, you can get your music on Spotify, Apple Music and more - not only will you earn royalties, but your music will reach a global audience. Learn how to use it here.
What are the benefits of releasing with BandLab Distribution?
You get to keep 100% of the royalties received from your releases! On top of that, we will deliver your releases to all supported DSPs.
Digital Service Provider (DSP) refers to companies like iTunes, Apple Music, and Spotify that offer online music services.
Additional Benefits:
Expedited submissions review
Premium support
AI-generated release covers (Coming Soon)
Royalty splits (Coming Soon)
What do I need to do before submitting a track for release?
Ensure you've confirmed the email address tied to your BandLab account
Ensure you've set up your payout method
Finalize your artist and song name
Prepare an original cover art
Add the explicit content warning when appropriate
How do I release my song through BandLab Distribution?
On BandLab Web, go to Services in the top navigation bar, select Distribution, and click the + New Release button.


Select your project! Kindly note that multitrack releases, albums, or collaborated work are not currently supported.


Follow the steps and fill in the required details for your release. Remember to use eye-catching cover art!


Review your release, hit the Submit button, then read and agree to our Terms of Service.


Congratulations! You've submitted your release!


We'll keep you updated on the status of your release via email. You can also monitor the status of your releases on BandLab!
What format should my songs be?
BandLab supports the following file formats: wav, mp3, m4a, ogg, and aac.
What are the formatting requirements for my cover art?
Streaming services may reject any artwork that does not follow the requirements. To prevent this from happening, your cover art must be:
In JPG or PNG format
A minimum of 1400 x 1400 pixels in size, but no larger than 6000 x 6000 and have a 1:1 aspect ratio or perfect square
Ensure your cover art doesn't contain:
Blurry or pixelated images
URLs, email addresses, phone numbers or social media handles
Illegal or offensive material (nudity, drugs, extreme violence etc.)
Additional text outside of the artist name, title and label information
Copyrighted or trademarked material (logos, company names, etc.)
References to pricing
Misleading information (images or names of artists not on albums, etc.)
Upsells to another product elsewhere
Duplicate images from a prior release
Are there restrictions on the type of content I can release?
While we welcome our users to share their music with others, we also encourage users to abide by the Community Guidelines. Here are some other factors to avoid:
Copyrighted Materials (including cover art, a cover of a song)
Trademarked Materials
Public Domain Work
Content that you don't have the rights to
If you believe a release was rejected by mistake, please send supporting documentation to
support@bandlab.com
!
Must I include a first and last name for the composer and lyricist credit?
You worked hard on your music and you deserve to get credit where it's due. Besides, most retailers now require first and last names for songwriters and other contributors to differentiate from artist names or stage names.

Unfortunately, this means that failure to provide the information will result in your release being rejected from those retailers. Not to worry, songwriter credits are not displayed prominently. If your stage name is your real name then just duplicate it in the required fields!
Do I still own the rights after releasing with BandLab Digital Distribution?
Yes, 100%!
How long does it take for my track to go live?
Distribution times can vary depending on the store. Once we've reviewed your submission, it can take up to 5 days for your track to go live on Spotify, Apple Music, and other stores.
How do I monitor my current releases?
To monitor your current Digital Distribution releases, select
Services
in the top navigation bar, then
Distribution
. Choose to browse releases by status.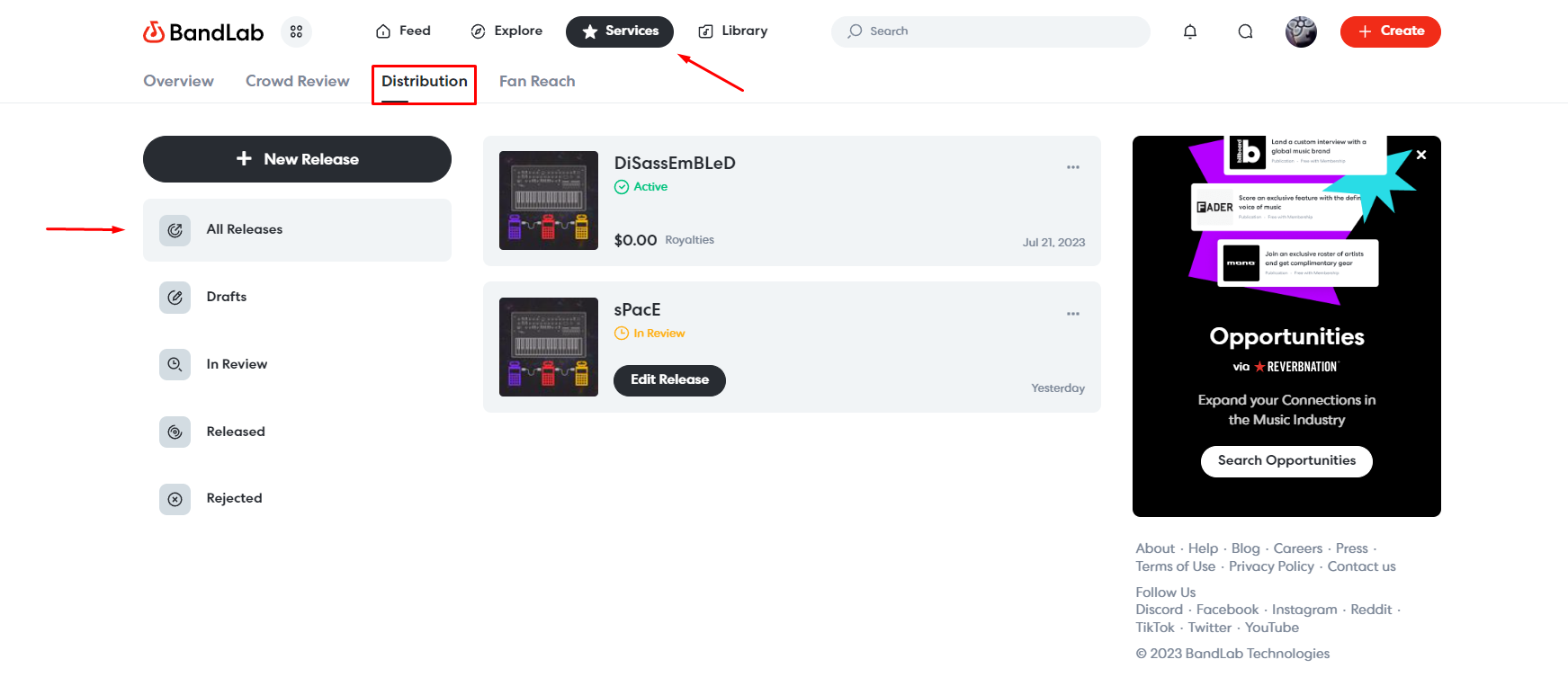 When and how will I receive my royalties?
Royalties earned will be paid to your selected payout method on a monthly basis. Find out more about how we handle
payouts
.
You'll need to maintain an
active Membership
to keep 100% of your royalties. Should you discontinue your Membership, you'll receive 100% of your royalties until the end of the cycle, followed by 80% thereafter.
What is a UPC and ISRC code?
Universal Product Code (UPC code) identifies albums or songs and aids in music purchase and sale. We provide a UPC code for songs released with BandLab Digital Distribution.
International Standard Recording Code (ISRC code) is the internationally recognized ID for sound and music video recordings. We provide an ISRC code for songs released with BandLab Digital Distribution.